The Importance Of Videoconferencing In An LMS
Videoconferencing solutions have successfully broadened access to various services, including healthcare, training, education, etc., with positive outcomes. But what if these platforms were integrated into your Learning Management System (LMS)? Can this integration enhance the effectiveness of your training programs?
Let's consider a scenario—a conversation between two Learning and Development team members.
James: Hi, Sarah, can you tell me how many SME webinars we conducted for our employees last month and the response from different departments and employees?
Sarah: I can check the number on my Excel sheet, but it will be difficult to comment on the response. We can manage and schedule courses on an LMS, but how do we do the same for webinars and Instructor-Led Training?
James: What if we scheduled these webinars and virtual meetings through an LMS?
Sarah: Well! Tell me more about it…
James: An LMS with videoconferencing integration not only manages and schedules virtual meetings but also monitors the learner's behavior vis-à-vis these online sessions, similar to what we do with the courses.
Let's look at the benefits of an LMS with integrated videoconferencing.
Learning Management Systems and videoconferencing solutions have been used separately and successfully for learning outcomes. But when they come together, they create powerful possibilities!
Benefits Of An LMS With Videoconferencing Integration
Support Blended Learning
An LMS with integrated videoconferencing opens up possibilities for quite some convergence.
Firstly, it allows for an assortment of mediums, providing a healthy mix of abstract and concrete learning experiences.
"Audiovisual materials furnish one especially effective way to extend the range of our vicarious experience." – Edgar Dale
As per Cone of Learning by Edgar Dale, videos provide a more concrete experience than mere icons, text, or visuals. The learner can participate in meetings and Q&A sessions, and converse with experts to assimilate the knowledge and retain it more efficiently.
Secondly, videoconferencing through an LMS facilitates Virtual Instructor-Led Training (VILT), creating an environment for blended learning.
The learning paths in such a Learning Management System can include not only courses and resources, but also meetings, webinars, Q&A sessions, and other live training events. It allows the creation of a healthy balance: guidance from instructors and the freedom to go through the courses at a convenient time.
Thirdly, both the courses and the video meetings can be scheduled and managed from the same platform, which is the LMS.
Monitor, Manage, Measure
Similar to courses, video-based training events can be scheduled and monitored through an LMS. The effectiveness of these sessions is measurable through learners' feedback on live events!
Additionally, all the resources shared during the meeting can be added seamlessly to the learning path in the LMS.
Automate Admin Tasks
An LMS with videoconferencing automates several administrative tasks, such as attendance, training reminders, etc. This allows the Learning and Development team to focus on the creation of engaging learning experiences using content, design, and User Interface. The Learning Management System already has the users and user groups added. The videoconferencing integration will obviate the extra effort and time to manually schedule the meetings for the learners. The user groups can be created to include members of any department, team, or any other set of learners.
Streamline Processes
The client review processes can be efficiently managed when videoconferencing is built into the LMS. The number of iterations and file versions can be tracked easily based on the review dates.
The training processes across geographical boundaries can be managed effectively, as the videoconferencing feature in the LMS can help scale the training program across the globe.
The dialogue between James and Sarah sets the context for the appraisal of the benefits of an LMS with the feature of videoconferencing. The scope of integrated videoconferencing in an LMS includes:
Client reviews
Demos to prospective clients and customers
Training webinars from Subject Matter Experts and other eLearning professionals around the world
Feedback and Q&A sessions
Customer training and engagement, etc.
Videoconferencing integration in LMSs helps to scale training programs across the globe. It increases the chances of team collaboration, productivity, and engagement.
Conclusion
A Learning Management System with videoconferencing integration facilitates real-time interactions and promotes active learner engagement. Our LMS, KREDO is a Learning Management System that has three videoconferencing platforms integrated: Microsoft Teams, Google Meet, and Zoom. It is a confluence of technology and communication, creativity and simplicity, purpose and fun, individual empowerment, and corporate excellence.
You can activate various web conferencing tools from the Marketplace, and they will be reflected in Virtual Meetings. Connect with any of these tools on the same platform and schedule a meeting in just a few steps. The users can view the meetings' schedule in KREDO as well as get a notification via email. The scheduled meetings can be added to the learning path through a simple drag-and-drop interactivity. The recorded meetings can be shared and stored in the LMS as resources for future reference. It is amazing how the convergence of LMS and videoconferencing frees up your time while making your training program more efficient.
If you wish to explore our LMS, authoring tool Prodient.io, and eLearning creation services, contact me or leave a comment below, and we will take it forward from there.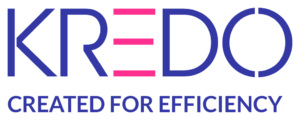 KREDO
KREDO is Tesseract Learning's answer to having a successful learning journey, where the learner ends up doing more and learning more in a much lesser span of time through exciting and continuous learning journeys.